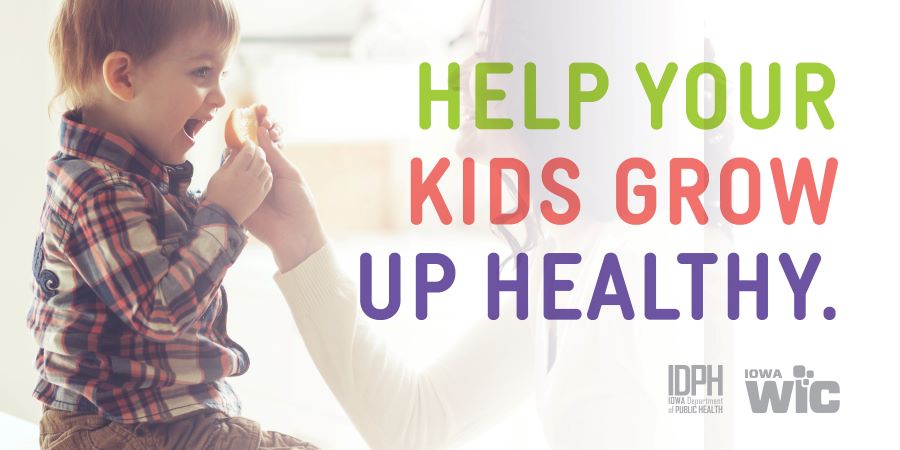 Woman, Infants & Children
WIC is an equal opportunity provider.
Cindy Canaday Meiners, WIC Coordinator
phone: 641-682-8784
1-800-452-1098
Email: cmeiners@ahfa.org
Who Qualifies for WIC
WIC is for pregnant women, women who have recently had a baby, infants, and children up to the age of five years old.  Many working families qualify and participate in WIC.
Please call us to see if you are eligible.  WIC income guidelines generally change every July.  Those on Medicaid, on a medical/handicap waiver, food stamps or with an income, before taxes, which is less than the guidelines below, may be eligible:
WIC Income Guidelines:
| Household Size | 1 | 2 | 3 | 4 | 5 | 6 | 7 | 8 |
| --- | --- | --- | --- | --- | --- | --- | --- | --- |
| Gross Annual Income | $26,973 | $36,482 | $45,991 | $55,500 | $65,009 | $74,518 | $84,027 | $93,536 |
| Gross Monthly Income | $2,248 | $3,041 | $3,833 | $4,625 | $5,418 | $6,210 | $7,003 | $7,795 |
Effective July 1, 2023 – June 30, 2024***
WIC Locations
MCAH and WIC Main Office
333 Church Street
Ottumwa IA 52501
641-682-8784
or 1-800-452-1098
Appanoose County WIC Clinic
River Hills Community Health Center
1015 N 18th Street, Suite C
Centerville, IA 52544
641-682-8784
or 1-800-452-1098
Davis County WIC Clinic
Mutchler Community Center
900 E North ST
Bloomfield, IA 52537
641-682-8784
or 1-800-452-1098
Jefferson County WIC Clinic
First United Methodist Church
201 North Court Street
Fairfield, IA 52556
641-682-8784
or 1-800-452-1098
Keokuk County WIC Clinic
Sigourney Public Library
720 E Jackson Street
Sigourney, IA 52591
641-682-8784
or 1-800-452-1098
Mahaska County WIC Clinic
Mahaska Health Partnership
1229 C Ave. E
Oskaloosa, IA 52577
641-682-8784
or 1-800-452-1098
Marion County WIC Clinic – Knoxville
Raceway Mall
831 N Lincoln Suite – 1050
Knoxville, IA 50138
641-682-8784
or 1-800-452-1098
Marion County WIC Clinic – Pella
Pella Memorial Building
829 Broadway Street
Pella, IA 50219
641-682-8784
or 1-800-452-1098
Monroe County WIC Clinic
Trinity United Methodist Church
1117 Benton Ave E
Albia, IA 52231
641-682-8784
or 1-800-452-1098
Van Buren County WIC Clinic
Van Buren Community Hospital Campus
Community Service Building
304 Franklin St
Keosauqua, IA 52565
641-682-8784
or 1-800-452-1098