Hawki
Healthy and Well Kids in Iowa (Hawki)

The Children's Health Insurance Program (CHIP) is offered through the Healthy and Well Kids in Iowa program, also known as Hawki. Iowa offers Hawki health coverage for uninsured children of working families.
No family pays more than $40 a month. Some families pay nothing at all. A child who qualifies for Hawki health insurance will get their health coverage through a Managed Care Organization (MCO).
These are the MCOs or health plans you can choose from:
Amerigroup Iowa, Inc.
Iowa Total Care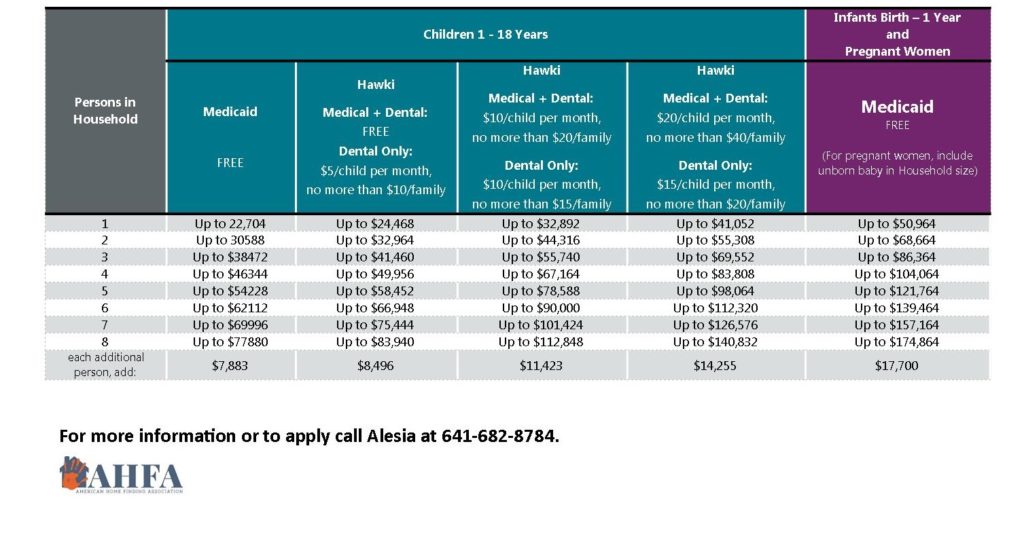 For more information on Hawki and health insurance for your child call us today at:
641-682-8784
Or visit: Hawki Homepage
Dental benefits for Hawki are covered by Delta Dental of Iowa.
Hawki Member Services 
(Monday to Friday from 8 a.m. to 5 p.m.)
1-800-257-8563 (Toll Free) 
Hawki@dhs.state.ia.us
For telephone accessibility assistance if you are deaf, hard-of-hearing, deaf-blind, or have difficulty speaking, call Relay Iowa TTY at 1-800-735-2942.Llame al 1-800-735-2942, a Relay Iowa TTY (teléfono de texto para personas con problemas de audición, del habla y ceguera) si necesita asistencia telefónicamente.